2012 Measurement Study
"The Importance of Practical Testing"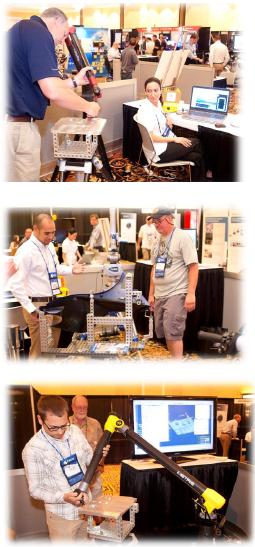 The Coordinate Metrology Society (CMS) has released the results of their third large-scale measurement study conducted at the 28th annual Coordinate Metrology Systems Conference (CMSC) held in New Orleans, LA. The 2012 measurement study was developed to support the organization's Certification Cognitive Examination development process, which will culminate in the industry's first level-one personnel Certification program for portable 3D metrology. The study's main focus was to test the methodology of practical testing rather than the evaluation of the measurement results. The 83-page report entitled "The Importance of Practical Testing" details the results and analysis of the interactive measurement study. Metrology is the science of measurement, and professionals in this field work in diverse industries such as aerospace, automotive, power generation, and more. The report can be downloaded:
CMSC 2012 Measurement Study Report
"The Importance of Practical Testing"
Thank you for participating!