2013 Participants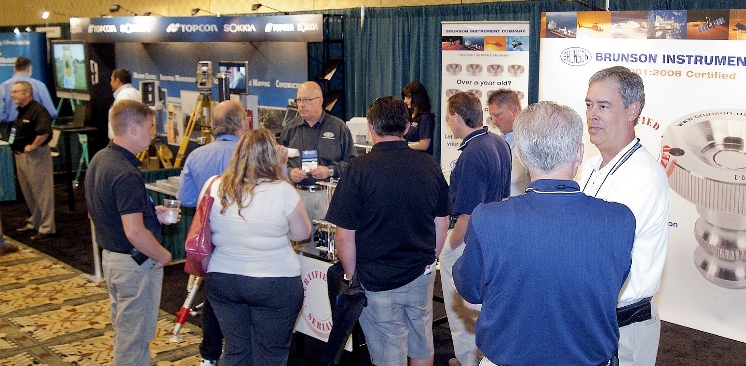 Our exhibiting sponsors provide the most financial contributions to make the CMSC an outstanding event to our society. The outstanding technical content provided by both our sponsors and users contribute to the growth of this conference. We thank you all for participating and look forward each year to providing a venue for networking and opportunities for advancement in the field of metrology.
Represented by CMSC 2013 Membership
3D Infotech
INAOE (National Institute of Astrophysics, Optics & Electronics )
3D Systems
InnovMetric Software Inc.
3SPACE Inc,
INORA Technologies, Inc.
8tree, LLC
Institute of Statistical Mathematics
A&M Precision Measuring
ISRO Satellite Centre
Accurex Dimensional Measurement Systems
ITER organization
Aerojet Rocketdyne
Janicki Industries
Aicon 3D Systems GmbH
Jefferson Lab
AIP Aerospace
Jet Propulsion Laboratory
ALLtra Corp.
John Deere
AMC BRIDGE LLC
Johns Hopkins University
API Services
JSMENG Wiring Harnesses
ARE Accessories LLC
Kodiak Measurement Services Inc.
AREVA NP
L-3 Mission Integration Division
Argonne National Laboratory
Langan Engineering
ARL Penn State
Large Millimeter Telescope, INAOE
Assembly Guidance
Laser Design, Inc.
ATK
Laser Projection Technologies Inc.
ATS Applied Tech Systems LLC
Leica Geosystems Metrology
ATT Metrology Services
Liebherr Mining Company
AURA/NSO
LMI Technologies
Automated Precision Inc. (API)
Lockheed Martin Aeronautics Company
AXIST
Los Alamos National Laboratory
Ball Aerospace & Technologies Corp.
M7 Technologies
Bal-tec
MAYA Simulation Technologies
Bell Helicopter
METROLOGIC GROUP SERVICES
Bic
Metrologic Group Services, Inc.
Blue Origin
MetrologyWorks
BNP Media
Metronic Systems LLC
The Boeing Company
Metronor Inc.
Brookhaven National Lab
Micro Encoder Inc.
Brunson Instrument Company
Multi Metrics, Inc.
BuildIT Software & Solutions Ltd.
National Institute of Standards and Technology
Canadian Light Source Inc.
National Physical Laboratory (NPL)
Capture 3D, Inc
National Solar Observatory
Capvidia
New River Kinematics
Carl Zeiss Industrial Metrology, LLC
Nikon Metrology, Inc.
Chenweikeji
Noncontact Measuring Systems, Slovakia
Coherent
Northrop Grumman Aerospace Systems
Concurrent Technologies Corporation
Nuclear AMRC / Manchester University
Coventry University
OASIS Alignment Services, Inc.
Cranbrook Media Limited - QMT Magazine
On-Trak Photonics, Inc.
Creaform
Origin Technologies Corporation
Dassault Systemes
Pantec Engineering
Data Design Co., Ltd.
Pennsylvania State University/ARL
Delcam
Planet Tool
Direct Dimensions, Inc.
PolyWorks USA
Photovoltaics
Quality Digest
ECM Global Measurement Solutions
Quality Vision Intl.
Electroimpact
SLAC National Accelerator Laboratory
EMBRAER
Solutionix Corp.
Etalon AG
Spirit AeroSystems, Inc.
Exotic Metals Forming Company LLC
Steinbichler Vision Systems
FARO Technologies, Inc.
Surphaser
Fermilab
SURVICE Metrology
GAASI
TACC Corp.
GE MRAS
Tech Soft 3D
General Atomics Aeronautical Systems
Third Dimension Software
General Dynamics Electric Boat
TMT Observatory
Geodetic Systems, Inc.
Toyota Motor Mfg Ky
Geoform, Inc.
TriMet
GEOs3D
Triumph Fabrications - Hot Springs
GOM mbH
University of North Carolina - Charlotte
Goodrich (UTAS)
University of Bath
Gulfstream Aerospace
University of Ontario Institute ofTechnology
HARRIS
UTAS
Hasselblad Bron Inc.
UTC Aerospace
Hexagon Metrology, Inc.
Variation Reduction Solutions, Inc.
HII - Newport News Shipbuilding
Verisurf Software, Inc.
HiTech Marketing
Vision Tech
Honda R&D Americas, Inc.
Wichita State University
HS&S, Inc.
Witte America
Hubbs Machine and Manufacturing, Inc.
WNBC in LA, Inc.
IHI Corporation
Zimmer, Inc.